Coolife is very popular among hunting enthusiasts in European countries and has received very high reviews. Choose us! We offer you the best products and services. Coolife focuses only on professional brands. Coolife's technical team has tested our new model 2021 for one year and created great photos and videos all year round. Through continuous testing, we ensure that every wild camera works perfectly.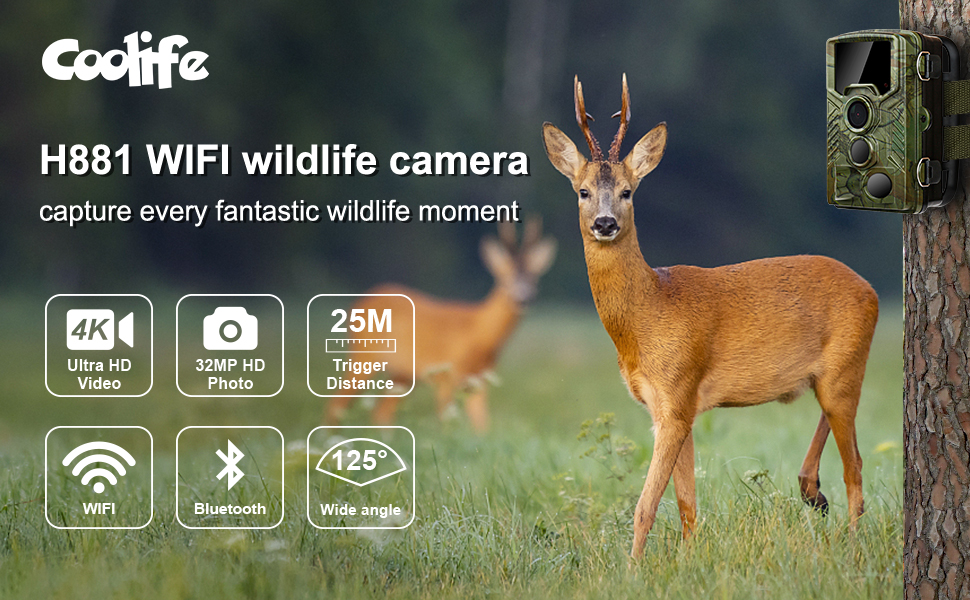 How to use the H881WiFi Hunting Camera?
1. Download the application:
a. Download the app "GcamPro" by scanning the above QR code
b. Download the "GcamPro" app and install it on the mobile phone in the App Store
2. Connect the camera to the app (information on operation can be found in the instruction manual)
3. After the WiFi connection has been successful, return to the app interface, and the user can perform functions in the app
Features:
Built-in WiFi and Bluetooth – H881 WiFi wildlife camera with WiFi and improved Bluetooth can support the operation of the camera via the app. You can adjust the camera settings in the app and also view videos and photos directly (Note: the app controls have range restrictions)
32 MP photos and 4 K HD videos – The H881 WiFi wildlife camera with motion sensor night vision was newly developed and upgraded in 2021. It can take 32MP photos and 4K ultra high definition video. With clear audio recording, it can show you more vivid and clearer wild moments and natural beauty
125° wide angle & 0.1s fast trigger speed - Three excellent sensors with a total of 125° detection zone can offer you full-screen field monitoring of the wild world. Thanks to the 3 sensors, the night vision motion detector can immediately switch to recording mode. An impressively faster trigger speed of 0.1s ensures that you won't miss any wonderful moments in front of the camera
IP67 waterproof and widely used – The H881 WiFi wildlife camera reaches the highest waterproof level – IP67 with dustproof, drop-proof and rainproof design is the ideal choice for hunting, wildlife monitoring, farm and home surveillance
Multifunctional: the Coollife hunting camera has multi-functions such as delay, target recording time, time lapse, continuous recording, audio recording and password protection and can set time, date, serial number and detection as well as temperature measurement to ensure you monitor every wonderful moment
Application Scenes

Hunting: A powerful tool tailored for hunters, helps you easily search for prey.
Farm Monitoring: A reliable assistant to help you monitor your farm, prevent strangers from slipping into the farm.
Wildlife Monitoring: Suitable for researchers, wildlife lovers.
Home Security: This hunting trail camera also acts as a home monitor, which will be a reliable security guard for your home.
Warm Tips: If your SD has any problems, such as damage during transportation. Please email us directly.
Why choose COOLIFE H881 WIFI wildlife camera?
32MP Images & 4K Videos:
32MP/4K photos/videos can ensure that every detected movement is in high definition and vivid and no amazing moments are missed

App control & WiFi connection:
Built-in WiFi and improved Bluetooth can support the remote control of the wildlife camera via the app. Even in the wild, you can easily set parameters and view perfect pictures and videos on your phone. (WIFI signal: effective distance 20 m)

Excellent audio recording:
The external microphone of the CCOLIFE wildlife camera can record the sounds of animals and the surroundings, and the built-in high-quality speakers can give you clearly recorded sounds

25 m Release distance:
The Coolife H881 WiFi wildlife camera with three highly sensitive sensors can detect animals or people within 25 metres of the camera's detection range and monitor a larger environment

IP67 waterproof:
360° all-round waterproof design to prevent the ingress of dust and rain, suitable for various harsh environments in the wild

Super night vision:
Equipped with 49 x 850nm infrared LEDs, which provide the wildlife camera enough bright light to give you a clear view of the wildlife at night.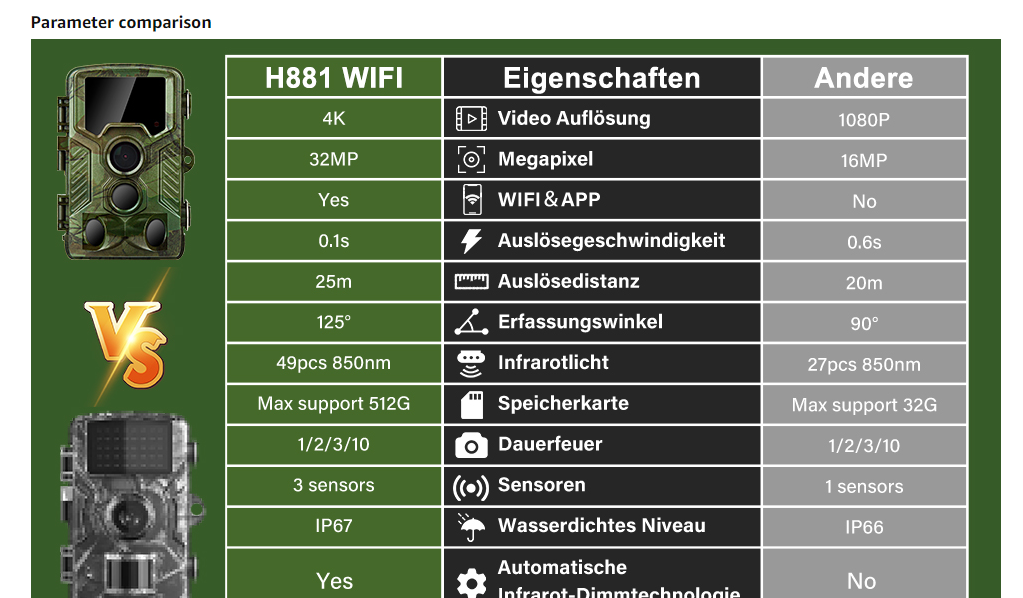 Function Parameter Comparison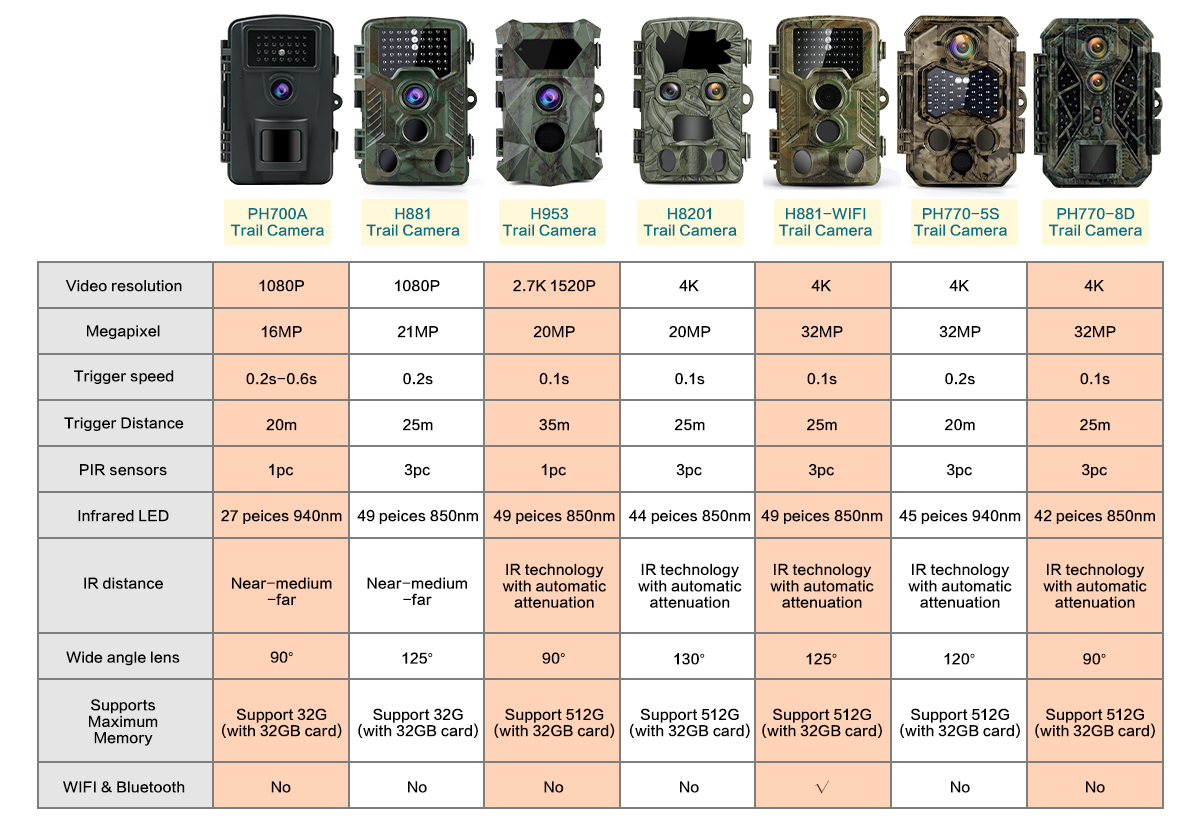 Ways of Power Supply
a.4 or 8 pcs of 1.5V AA high-performance alkaline battery set;
b.4 or 8 pcs of rechargeable lithium battery over 3000mAh that are fully charged;
c.External Power Supply: 6V 1.5A-2A AC adapter with 3.5mm*1.35mm DC jack size;
d.6V 1.5A-2A Trail Camera Solar Panel
Once you have the general location determined, the placement of the camera will depend on the animals you'd like to see. Here are some suggestions to maximize your viewing potential.
Place the cameras higher and angle them slightly downwards. This will increase your visibility in the thicker branches while increasing the chances of seeing both large and small animals.

Clear branches, large shrubs, and leaves from around the camera to minimize setting off the motion trigger excessively on a windy day.

Interested in seeing some amphibians, or small carnivores? Consider putting the camera closer to the ground. Title the flash angle higher up as to not flash on the ground.

Double check the camera's placement and test it before you leave.
Package Includes

1 x Coolife hunting camera.

1 x AV cable.

1 x USB cable.

1 x mounting strap.

1 x user manual.

1 x sturdy metal stand.
Tips for using trail cameras
When you use the trail camera for the first time, please format the memory card in the camera. Do not insert or remove the SD card while the camera is on.
In order to prolong the standby time of the camera, we recommend using high-quality 8 * 1.5V AA large capacity alkaline batteries. Support DC 6V 1.5-2.0A external power supply. The camera can use high-quality lithium-ion rechargeable batteries. It is recommended to use a larger capacity battery or a constant voltage lithium-ion battery. Note that the battery power should reach 1.5V after being fully charged. If you use a rechargeable battery, you need to place the battery in the battery compartment in a professional charger to charge it. Please do not directly use the charger to charge the battery in the camera's battery compartment.
In order to get the best picture, please remove the protective film from the camera lens. Please remove all obstacles in front of the camera as much as possible. Please install the trail camera in a place with sufficient light.
The supplied USB data cable is not a charging cable. The USB data cable is only used for data transmission and cannot be used as a charging cable to power the camera. The real port for the external power supply is on the outside of the camera. Code 20: External power port