Coolife is very popular among hunting enthusiasts in European countries and has received very high reviews. Choose us! We offer you the best products and services. Coolife focuses only on professional brands. Coolife's technical team has tested our new model 2021 for one year and created great photos and videos all year round. Through continuous testing, we ensure that every wild camera works perfectly.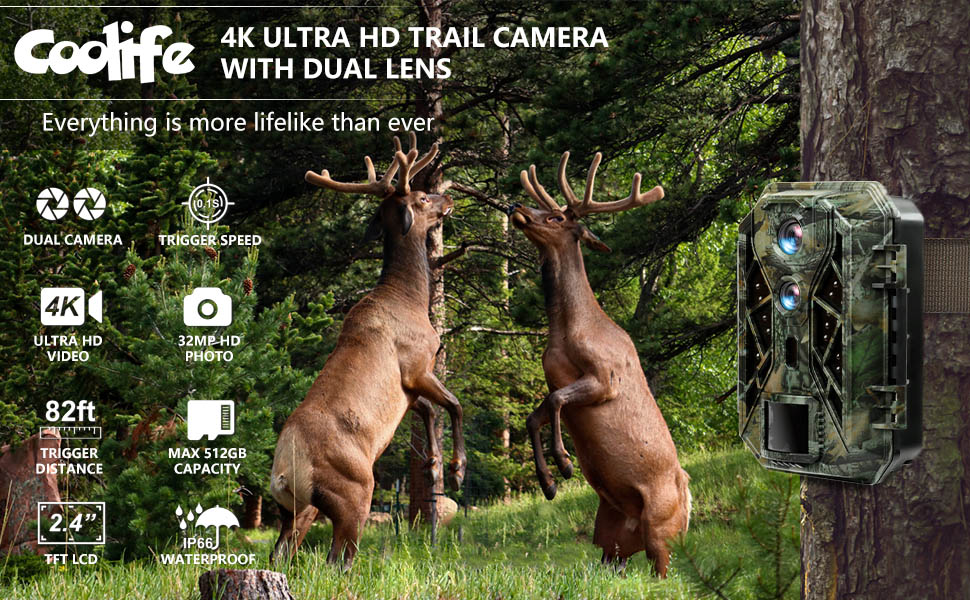 If you're looking for excellent image quality for the wildlife photography and videography then this PH770-8D trail camera is your choice!
Our PH770-8D features "Dual Camera Lens Technology". Based on resolutions of 4K Ultra HD video with sound and 32MP still photo, we have developed a custom tuned daytime camera lens to produce razor sharp daytime images, while the dedicated night camera lens takes incredibly clear nighttime images. The PH770-8D trail cam also features a lightning fast 0.1s trigger speed and an 82ft motion detection range. This game camera is also compatible with up to 512GB memory cards and IP66 waterproof rating also makes the unit ideal for viewing wildlife and security purposes. Coolife PH770-8D is a great option for outdoor enthusiasts who want functionality regardless of the time of day or lighting conditions.
Features
Dual Camera Lens Technology: With a dedicated lens each for night and day, dual-lens trail camera takes crystal clear photos and videos in light or darkness. The lens switches day and night modes automatically according to the ambient light. Daylight images are in color, night images in black and white
High-resolution 32MP Images and 4K UHD Video with Audio: This game camera offers 3840x2160P video with sound and a whopping 32MP still image resolution, providing outstanding picture quality with excellent detail and great color reproduction. A 2.4-inch color display allows you to view images directly on the camera
Super Night Vision: Thanks to 42 infrared 850nm LED lights with super-low glow that won't scare animals, this trail cam can capture excellent picture quality of the wildlife at night within a 90°detection range up to 27 yards. Its fully automatic IR filter will make those night-time shots really stand out
The trigger speed is surprisingly spiffy at 0.1s: Once the moving targets enter the PIR sensor scanning range, the wildlife camera takes the fastest 0.1s to trigger the camera to take photos/ videos, never miss any fantastic moment in real-time
High Performance & IP66 Waterproof Rating: Capable of withstanding even the worst weather conditions while still taking amazing photos. Running on 4 or 8 AA batteries( not included) and with a maximum SD card support of 512 GB, this waterproof hunting camera can last for a long time. Ideal for hunting, wildlife observation and security monitoring. If you have any questions during use, please feel free to let us know, we'll offer you a perfect solution
Application Scenes

Hunting: A powerful tool tailored for hunters, helps you easily search for prey.
Farm Monitoring: A reliable assistant to help you monitor your farm, prevent strangers from slipping into the farm.
Wildlife Monitoring: Suitable for researchers, wildlife lovers.
Home Security: This hunting trail camera also acts as a home monitor, which will be a reliable security guard for your home.
Warm Tips: If your SD has any problems, such as damage during transportation. Please email us directly.
Why choose Coolife waterproof wildlife camera?
Dual Camera Lens System
Dual Lens technology ensures both daytime and nighttime images remain crystal clear.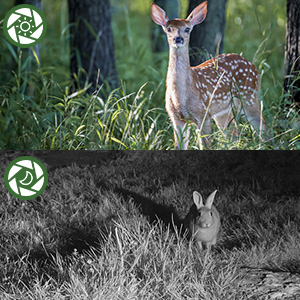 32MP HD Images and 4K UHD Video with Audio
This trail camera gets excellent quality pictures and videos around the clock.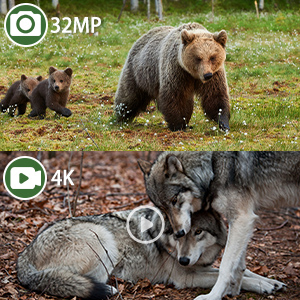 Super Night Vision
Using 850nm low glow infrared LEDs, chances of snapping crystal clear pictures of those nighttime level is greatly improved.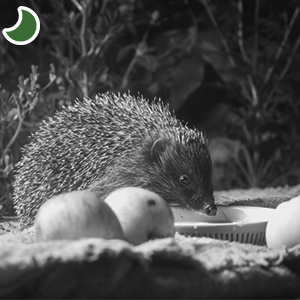 Longer Trigger Distance
With a range of 82 feet and a 90° wide-angle detection and 0.1s trigger speed, this game camera can capture more fantastic moments in real time.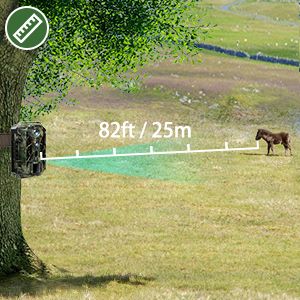 Magical Time-lapse Mode
This trail cam allows you to record at intervals preset by you. This feature enables you to observe the magical process of plant growth or animal habits. (Note: this mode will disable motion detection.)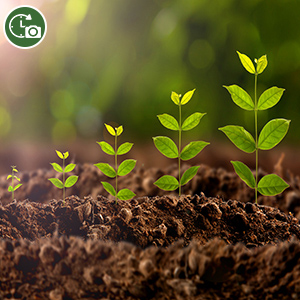 Continuous Loop Recording
The wildlife camera allows old files to be rewritten if the memory is full. This means you'll never have to worry about missing updated action.


Up to 512GB of Capacity and 2.4'' Color Viewing Screen
Up to 512GB capacity offers a massive amount of storage for all your photos and videos. A 2.4'' color display allows you to set up menu and view images directly on the camera or read an SD card or USB cable to transfer data onto your pc.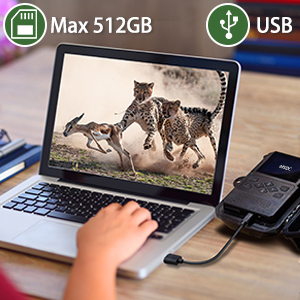 IP66 Waterproof
This hunting camera comes in a waterproof case and can be mounted on a tripod, fixed to a tree or simply placed on the ground.


Weather Proof and Durable
Trail camera offers a waterproof casing that allows the camera to tolerate the changing weather,, so the conditions will not hinder the effectiveness of the camera.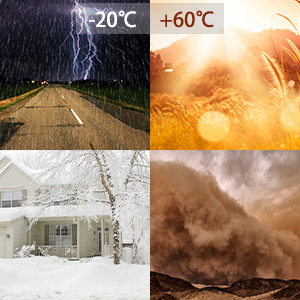 Function Parameter Comparison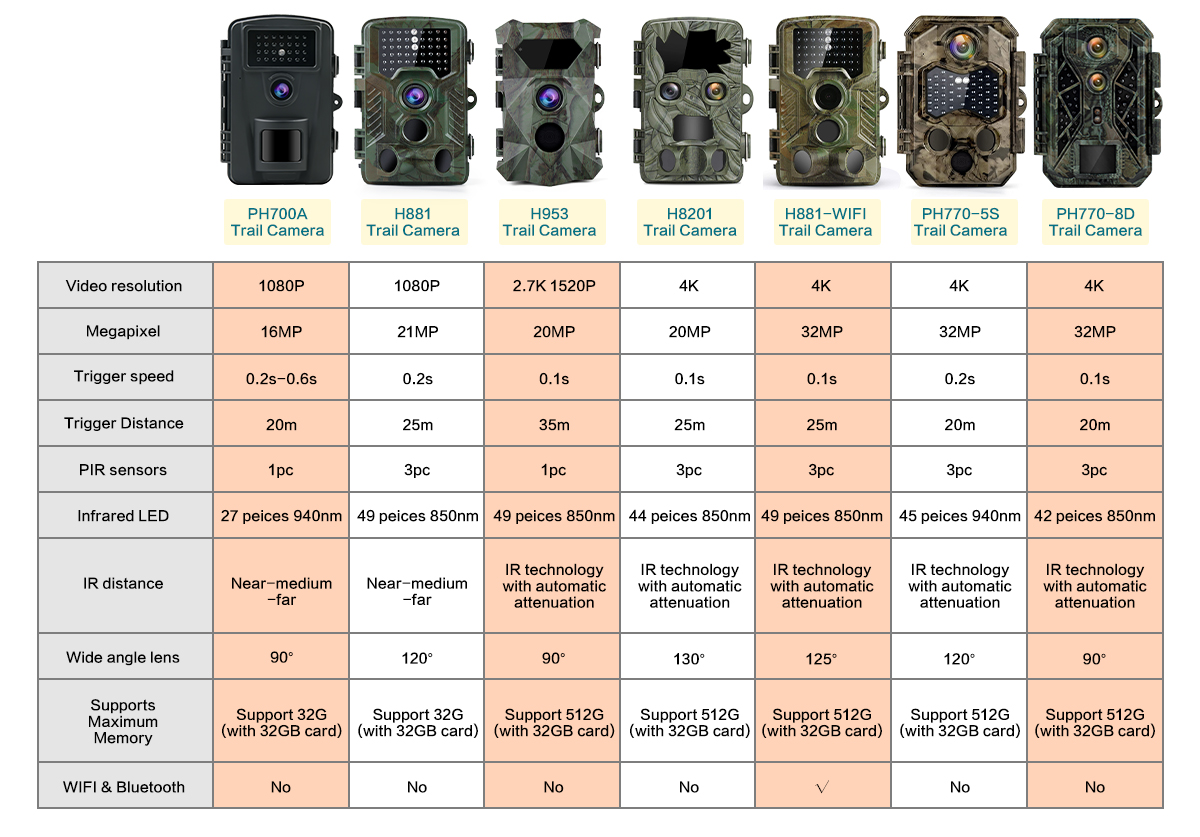 Specifications
Day Resolution: 4K video & 32MP photo
Night Resolution: 1080p video & 8MP photo
Modes: Photo/Video/Photo&Video
Video Format: AVI ; Photo Format: JPEG
Sensitivity of Motion Sensor: Low/Medium/High
Shot Lag: 5 secs -60 mins
Video Length: 3 secs-10 mins
Audio Recording: On/Off
Target Recording Time: On/Off

Ways of Power Supply
a.4 or 8 pcs of 1.5V AA high-performance alkaline battery set;
b.4 or 8 pcs of rechargeable lithium battery over 3000mAh that are fully charged;
c.External Power Supply: 6V 1.5A-2A AC adapter with 3.5mm*1.35mm DC jack size;
d.6V 1.5A-2A Trail Camera Solar Panel
Ideal for monitoring game, spying on the natural world, indulging your interest in wildlife or keeping an eye on remote property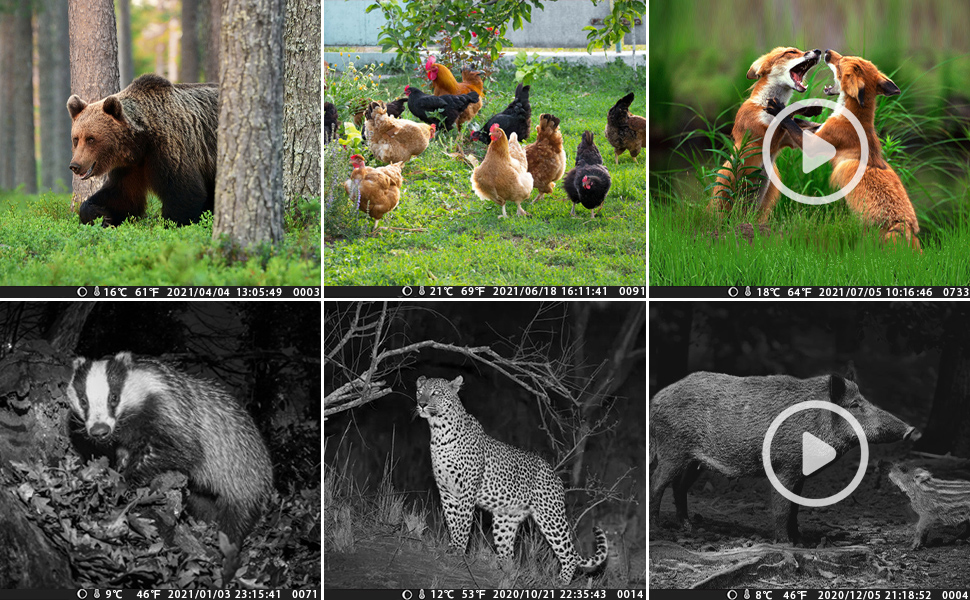 Motion activated trail camera for capturing images of wildlife or for security purposes
Once you have the general location determined, the placement of the camera will depend on the animals you'd like to see. Here are some suggestions to maximize your viewing potential.
Place the cameras higher and angle them slightly downwards. This will increase your visibility in the thicker branches while increasing the chances of seeing both large and small animals.

Clear branches, large shrubs, and leaves from around the camera to minimize setting off the motion trigger excessively on a windy day.

Interested in seeing some amphibians, or small carnivores? Consider putting the camera closer to the ground. Title the flash angle higher up as to not flash on the ground.

Double check the camera's placement and test it before you leave.
Package Includes
1* 4K 32MP trail camera

1* User manual (in English, Spanish, German, French, Italian)

1* Strap

1* USB cable

1* Iron bracket

3* Screws

3* Wall plugs
Tips for using trail cameras
When you use the trail camera for the first time, please format the memory card in the camera. Do not insert or remove the SD card while the camera is on.
In order to prolong the standby time of the camera, we recommend using high-quality 8 * 1.5V AA large capacity alkaline batteries. Support DC 6V 1.5-2.0A external power supply. The camera can use high-quality lithium-ion rechargeable batteries. It is recommended to use a larger capacity battery or a constant voltage lithium-ion battery. Note that the battery power should reach 1.5V after being fully charged. If you use a rechargeable battery, you need to place the battery in the battery compartment in a professional charger to charge it. Please do not directly use the charger to charge the battery in the camera's battery compartment.
In order to get the best picture, please remove the protective film from the camera lens. Please remove all obstacles in front of the camera as much as possible. Please install the trail camera in a place with sufficient light.
The supplied USB data cable is not a charging cable. The USB data cable is only used for data transmission and cannot be used as a charging cable to power the camera. The real port for the external power supply is on the outside of the camera. Code 20: External power port