Coolife is very popular among hunting enthusiasts in European countries and has received very high reviews. Choose us! We offer you the best products and services. Coolife focuses only on professional brands. Coolife's technical team has tested our new model 2021 for one year and created great photos and videos all year round. Through continuous testing, we ensure that every wild camera PH700A works perfectly.





Features
【Fast trigger speed】The Coolife wildlife camera shoots at a speed of 0.2 seconds, ensuring a fast and accurate capture of every detected movement. The night vision wildlife camera also features a 90° detection angle for excellent visibility. Our wildlife camera photo trap can be used for extended periods of time with 8 AA high-performance alkaline batteries for up to 8 months (do not mix new and old batteries).
【Advanced Technology and Unique Design】The combination of pure black and 940nm technology makes your hunting camera blend in very well at night. 27 LED infrared night lighting, more uniform light filling, no problem of local overexposure. Whether in nature, on the farm or in your garden, it will not scare animals or people and you will be sure that you will not miss anything.
【Real HD Experience】The Coolife night vision motion sensor records crystal clear 16MP images and 1080p HD videos with super clear sound recording. The video frame rate of up to 60 frames per second to ensure a clearer and more stable image and better display of the shooting scene.
【High resistance to water and dust】Coolife night vision hunting camera is equipped with IP66 technology, which is ideal for water and dust sealing and can be used in harsh environments with high temperatures from -20 ° to 60 ° (in harsh environments with heavy storms or heavy rain and thunderstorms). In the desert or rainforest, it's the best.
【Multifunction】Coolife PH700A camera trap has several functions such as shooting offset, target recording time, time lapse, endless capture, audio recording and password protection, and displays time, date, serial number and temperature, ensuring you enjoy the wildlife and beauty of nature.
Application Scenes

Hunting: A powerful tool tailored for hunters, helps you easily search for prey.
Farm Monitoring: A reliable assistant to help you monitor your farm, prevent strangers from slipping into the farm.
Wildlife Monitoring: Suitable for researchers, wildlife lovers.
Home Security: This hunting trail camera also acts as a home monitor, which will be a reliable security guard for your home.
Warm Tips: If your SD has any problems, such as damage during transportation. Please email us directly.
Why choose Coolife waterproof wildlife camera?
16 Megapixel HD
The 16MP photo quality and 1080P HD video can perfectly show every detail of the recording, bringing you visual pleasure.


Take pictures quickly
The Coolife hunting camera has a night vision range of up to 20m, a fast-test trigger speed of 0.2s, and a wide-angle of 90°, ensuring that any animal that appears near the hunting camera is captured in no time at all.


Observing plants and nesting birds, even at sunrise and sunset
The Coolife night vision wildlife camera for watching animals, plants, or events. When you activate the PIR sensor, the night vision hunting camera detects the sudden change of the ambient temperature caused by the movement of the animals in a region of interest and triggers the recording of photos/videos.


Super night vision
The latest 940nm technology allows the camera to be completely hidden in the dark and not emit any light at night to scare away animals or people you want to photograph. It's the best assistant for capturing active animals at night.





Function Parameter Comparison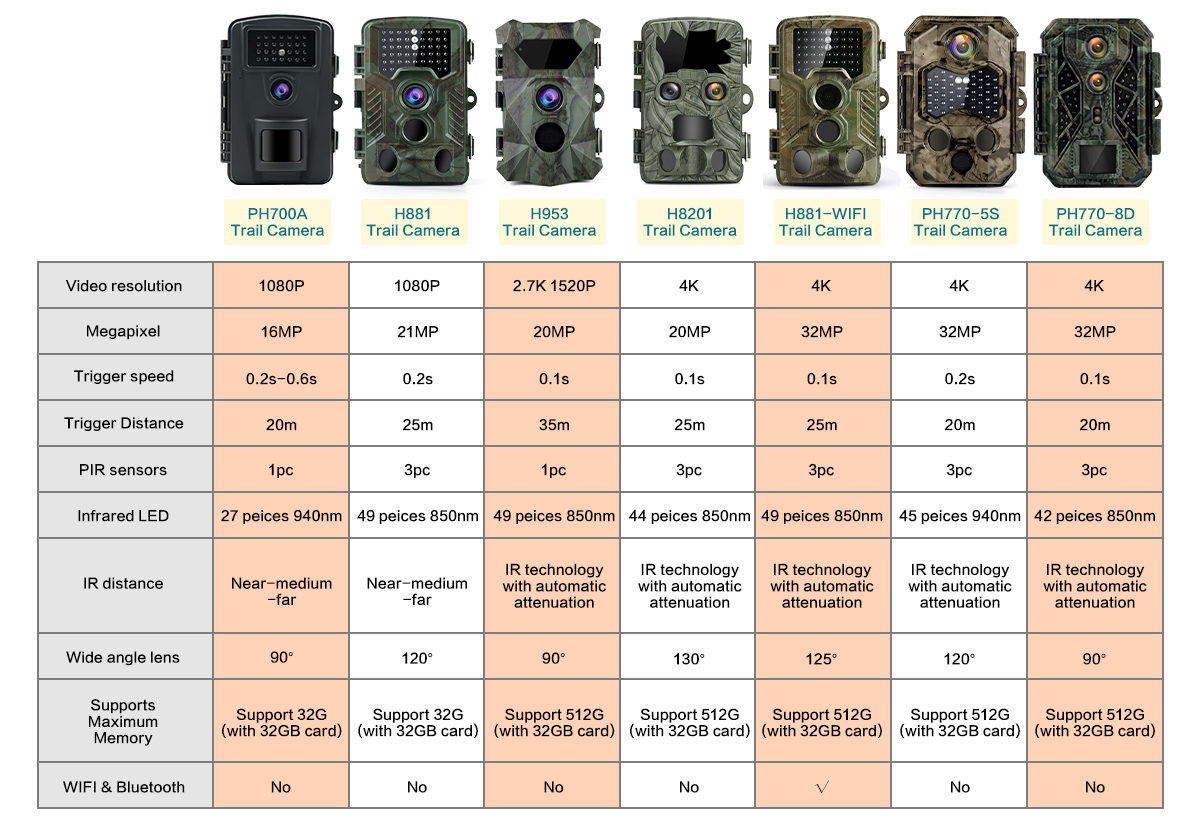 Specifications

Sensor: Infrared Light 26 LED black + 1 LED white flash effective distance at 20 meters.
Waist of the photo:16MP:4608x3456;12MP:4000x3000;;8M:3264x2448;5M:2592x1944.
Waist of the video:1920 × 1080p @ 25fps; 1280 × 720p @ 30fps; 720 × 480p @ 30fps; 640 × 480p @ 30fps; 320 × 240p @ 30fps;
Built-in microphone: Yes.
Interface PC: Micro USB 2.0
Waterproof standard: IP66
Charge your Micro SD / SDHC card with 32 GB storage
8 months supply
2.4 inch TFT-LCD color display
Night: Black / white
Trigger speed: 0.2 second, 0.6 second.
Function mode: Camera photo, Video, Camera + Video

Technical Details

Ways of Power Supply
a.4 or 8 pcs of 1.5V AA high-performance alkaline battery set;
b.4 or 8 pcs of rechargeable lithium battery over 3000mAh that are fully charged;
c.External Power Supply: 6V 1.5A-2A AC adapter with 3.5mm*1.35mm DC jack size;
d.6V 1.5A-2A Trail Camera Solar Panel
Once you have the general location determined, the placement of the camera will depend on the animals you'd like to see. Here are some suggestions to maximize your viewing potential.
Place the cameras higher and angle them slightly downwards. This will increase your visibility in the thicker branches while increasing the chances of seeing both large and small animals.

Clear branches, large shrubs, and leaves from around the camera to minimize setting off the motion trigger excessively on a windy day.

Interested in seeing some amphibians, or small carnivores? Consider putting the camera closer to the ground. Title the flash angle higher up as to not flash on the ground.

Double check the camera's placement and test it before you leave.
Package Includes

1 x Coolife hunting camera.

1 x AV cable.

1 x USB cable.

1 x mounting strap.

1 x user manual.

1 x sturdy metal stand.
Tips for using trail cameras
When you use the trail camera for the first time, please format the memory card in the camera. Do not insert or remove the SD card while the camera is on.
In order to prolong the standby time of the camera, we recommend using high-quality 8 * 1.5V AA large capacity alkaline batteries. Support DC 6V 1.5-2.0A external power supply. The camera can use high-quality lithium-ion rechargeable batteries. It is recommended to use a larger capacity battery or a constant voltage lithium-ion battery. Note that the battery power should reach 1.5V after being fully charged. If you use a rechargeable battery, you need to place the battery in the battery compartment in a professional charger to charge it. Please do not directly use the charger to charge the battery in the camera's battery compartment.
In order to get the best picture, please remove the protective film from the camera lens. Please remove all obstacles in front of the camera as much as possible. Please install the trail camera in a place with sufficient light.
The supplied USB data cable is not a charging cable. The USB data cable is only used for data transmission and cannot be used as a charging cable to power the camera. The real port for the external power supply is on the outside of the camera. Code 20: External power port