Coolife is very popular among hunting enthusiasts in European countries and has received very high reviews. Choose us! We offer you the best products and services. Coolife focuses only on professional brands. Coolife's technical team has tested our new model 2021 for one year and created great photos and videos all year round. Through continuous testing, we ensure that every wild camera works perfectly.

Comparison of main parameters between 850nm and 940nm
Trigger Distance: 850nm:35M 940nm:25M
Does it glow at night:850nm:glow 940nm:no glow
Photo Resolution: 850nm:20MP(5200*3900P) 940nm:20MP(5200*3900P)
Storage Formats: 850nm: Photo: JPEG; Video: AVI 940nm:Photo: JPEG; Video: AVI
IR Flash: 850nm:49 LEDs for Darkness Scene 940nm:49 LEDs for Darkness Scene
Screen: 850nm:2.4 Inches TFT-LCD Color Display 940nm:2.4 Inches TFT-LCD Color Display
Photo Series: 850nm: Max 10 Photos in series 940nm: Max 10 Photos in series
Supports Maximum Memory: 850nm:512G 940nm:512G
Video Resolution:850nm:2.7K 1520P(2688*1520P 20FPS) 940nm:2.7K 1520P(2688*1520P 20FPS)
lens angle: 850nm:90 ° 940nm:90 °
Features

【20 MP clear image with a 2.7 K / 1520 P video resolution】The H953 wildlife camera has been developed in 2020. It can take ultra-high-resolution photos with 20 MP and video at 2.7 K / 1520 P. With an ultra-clear sound recording and a 2.4-inch LCD screen, every moment taken by the H953 wildlife camera can be displayed more vivid and clearer.
【35/25 m trigger distance and 0.1 s trigger reaction time】 The trigger distance of the Coolife hunting camera is up to 35/25 m. Once the animal has passed through, the PIR sensor of the hunting camera can detect it immediately and take photos or videos in 0.1 second. Compared to the others, Coolife H953 is able to capture all surrounding creatures faster and wider, you will never miss a great moment.
【Function Enhancement】The night vision H953 wild camera supports up to 512 GB memory cards. Unlike normal wild cameras, which can only record up to 3 photos continuously, our night vision wildlife camera can continuously take 10 photos. This ensures that you will not miss any movement The stand-by time of the night vision wildlife camera is up to 24 months.
【Excellent night vision and IP66 waterproof】The Coolife wildlife camera with motion detector night vision is equipped with a fully automatic infrared filter and 49 pieces 850/940 nm infrared lights, which ensure sufficient light at night without overexposure and excellent night vision. Our wildlife camera uses the highest quality waterproof materials with the highest IP66 waterproof rating, which also works well in dusty or rainy outdoor environments.
【Multi-Functions】The Coolife H953 hunting camera has multiple functions such as recording delay, target recording time, time lapse, continuous recording, audio recording and password protection, and it can display time, date, serial number and temperature. Monitor your wonderful moments in real time.
Application Scenes

Hunting: A powerful tool tailored for hunters, helps you easily search for prey.
Farm Monitoring: A reliable assistant to help you monitor your farm, prevent strangers from slipping into the farm.
Wildlife Monitoring: Suitable for researchers, wildlife lovers.
Home Security: This hunting trail camera also acts as a home monitor, which will be a reliable security guard for your home.
Warm Tips: If your SD has any problems, such as damage during transportation. Please email us directly.
Why choose Coolife waterproof wildlife camera?
2.7K/1520P HD Video Recording
H953 wildlife hunting camera supports 1520P high-resolution video recording, which can help you restore the most realistic wild animal world.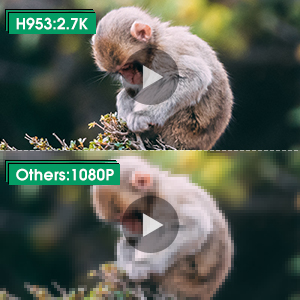 Courtyard Monitor
The game camera is also like a hunter. Mount camera by your backyard, driveway, front door, or garage, to detect any and all action.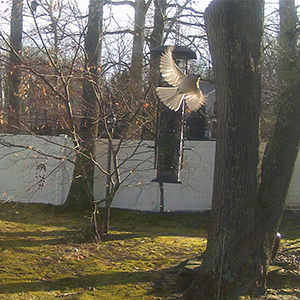 Intelligent FIll Light Technology
The Cmos system senses the intensity of light and automatically adjusts the brightness of 49 850/940nm infrared lamps.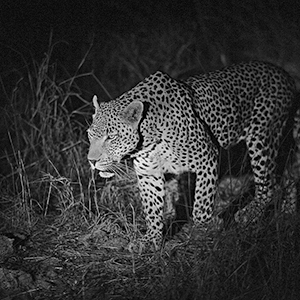 Ten Continuous Shooting
Our infrared hunting camera supports the continuous shooting of TEN PHOTOS.
In photos mode, set the photo number of continuous shooting.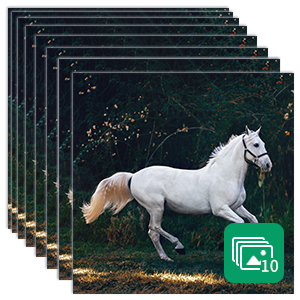 Loop Coverage
This capacity has loop coverage, you don't have to worry about capacity.
It is recommended to save important images to other devices (Before you need to set it).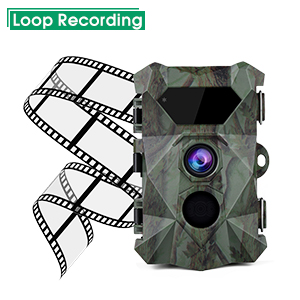 Support 512GB memory card
We prepared a 32GB micro sd card for this game camera.
Our Coolife trail camera can support a Maximum of 512 GB of memory card.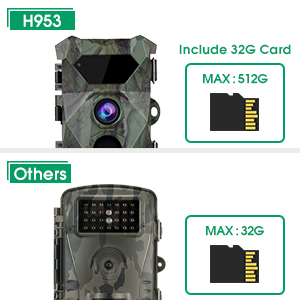 24 Month Standby Time:
Ultra low power standby, approx. 90uA; similar products on the market require more than 1000uA. (Note: The camera is in standby mode and does not work.)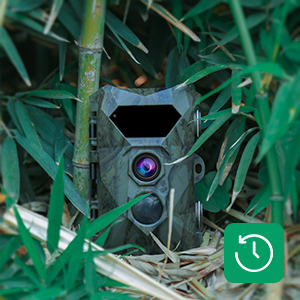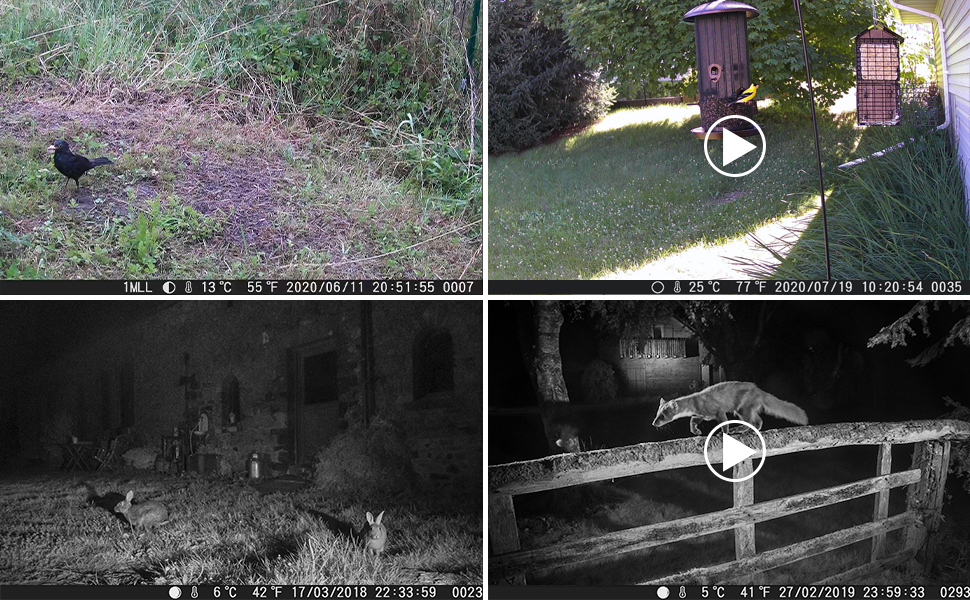 Function Parameter Comparison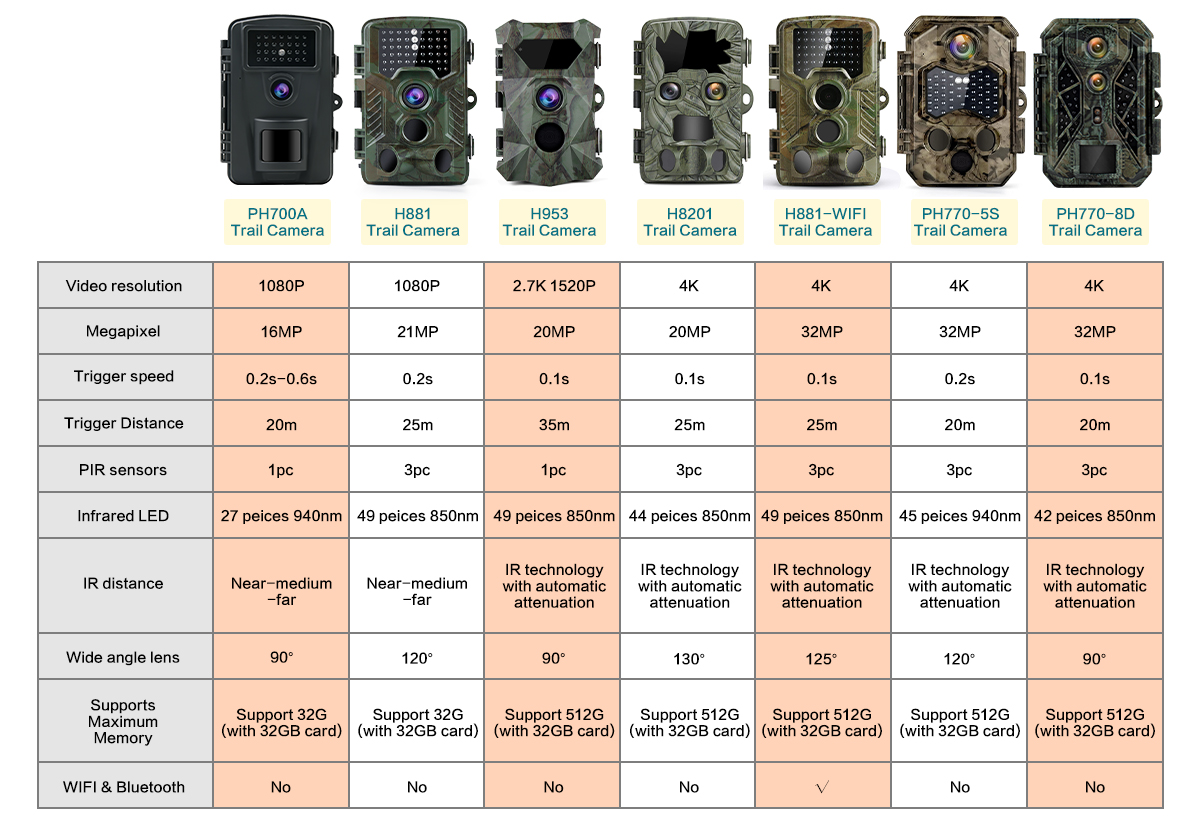 Ways of Power Supply
a.4 or 8 pcs of 1.5V AA high-performance alkaline battery set;
b.4 or 8 pcs of rechargeable lithium battery over 3000mAh that are fully charged;
c.External Power Supply: 6V 1.5A-2A AC adapter with 3.5mm*1.35mm DC jack size;
d.6V 1.5A-2A Trail Camera Solar Panel
Once you have the general location determined, the placement of the camera will depend on the animals you'd like to see. Here are some suggestions to maximize your viewing potential.
Place the cameras higher and angle them slightly downwards. This will increase your visibility in the thicker branches while increasing the chances of seeing both large and small animals.

Clear branches, large shrubs, and leaves from around the camera to minimize setting off the motion trigger excessively on a windy day.

Interested in seeing some amphibians, or small carnivores? Consider putting the camera closer to the ground. Title the flash angle higher up as to not flash on the ground.

Double check the camera's placement and test it before you leave.
Package Includes

1 x Coolife hunting camera.

1 x AV cable.

1 x USB cable.

1 x mounting strap.

1 x user manual.

1 x sturdy metal stand.
Tips for using trail cameras
When you use the trail camera for the first time, please format the memory card in the camera. Do not insert or remove the SD card while the camera is on.
In order to prolong the standby time of the camera, we recommend using high-quality 8 * 1.5V AA large capacity alkaline batteries. Support DC 6V 1.5-2.0A external power supply. The camera can use high-quality lithium-ion rechargeable batteries. It is recommended to use a larger capacity battery or a constant voltage lithium-ion battery. Note that the battery power should reach 1.5V after being fully charged. If you use a rechargeable battery, you need to place the battery in the battery compartment in a professional charger to charge it. Please do not directly use the charger to charge the battery in the camera's battery compartment.
In order to get the best picture, please remove the protective film from the camera lens. Please remove all obstacles in front of the camera as much as possible. Please install the trail camera in a place with sufficient light.
The supplied USB data cable is not a charging cable. The USB data cable is only used for data transmission and cannot be used as a charging cable to power the camera. The real port for the external power supply is on the outside of the camera. Code 20: External power port