Coolife is very popular among hunting enthusiasts in European countries and has received very high reviews. Choose us! We offer you the best products and services. Coolife focuses only on professional brands. Coolife's technical team has tested our new model 2021 for one year and created great photos and videos all year round. Through continuous testing, we ensure that every products works perfectly.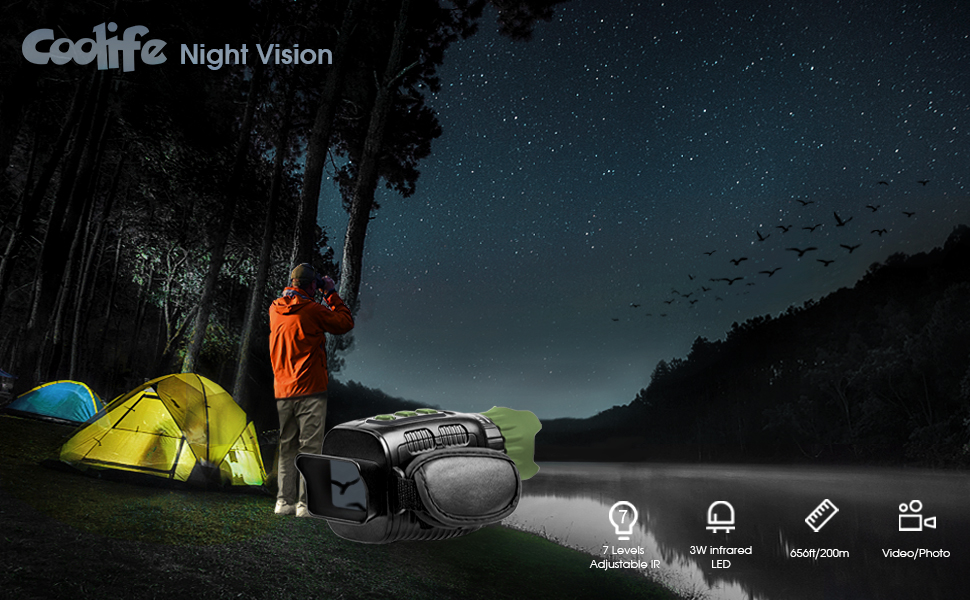 To get an understanding of what you can expect from night vision monoculars, it's good to have some idea of how it works.
We can't see at night because there isn't enough light around in the section of the spectrum than human eyes can register. Night vision monocular enhances the image before us by amplifying the available light. Unlike the traditional method of optoelectronic image enhancement which works by capturing the small amounts of infrared light available at night and enhancing it electronically, this night vision monocular use is a newer technology, digital image enhancement, captures available light on a digital image CMOS sensor and then digitally enhances the images in a full-color display. The digital image is then enhanced electronically and magnified several times, then sent to an LCD display for viewing directly. Therefore, the eyepiece is on the screen, please hold it 10 cm far from your eye for better viewing, not just hold it to your eye just like holding the traditional monocular.
Coolife night vision monocular improves your vision in the dark by way of infrared imaging technology, making it possible for you to see clearly at night or in ambient light. Night vision also allows you to see at a distance and be able to better identify targets with control of video recording, image capture, zoom, which is useful for hunting and wildlife activities performed at night, dusk, or dawn.

Features

【Super Night Vision】 Thanks to 3W infrared LED and 850nm Illuminator, these night vision monocular enables to observe target in the fully dark condition, and infrared lights of 7 levels are adjustable according to the ambient light that can range up to 656ft/200m. To turn on the night vision function, please simply press the IR+ button or increase the IR brightness level gradually
【All-Optical System】 Outstanding optical clarity, CMOS sensor achieves a clear view with high-performance digital night vision Monocular. 3x fixed Zoom that can easily adjust to the best focal length according to the actual observation distance
【Lightweight and Portable】Night vision scope is compact and lightweight (0.37lb), just like holding a mobile phone with one hand. Ideal for a variety of outdoor activities such as night hunting, camping, night navigation, night fishing, wildlife observation, search and rescue, bird watching, etc
【Solid Build Quality】Solid framework makes these night vision goggles stable for long time use and keeps them from slipping out from your hand. Sealed and nitrogen filled feature can prevent moisture and dust from getting inside the monocular


Specifications

Power Source: 7.5V, 5*AA

Aperture: F 1.2 f=25mm

Lens Angle: FOV=10°, diameter is 24mm

IR LED: 3W,850nm, 7 grades infrared adjustment

Photo Resolution: 1M(1280x960)/VGA(640x480)

Video Size: 960P(1280x960@30FPS) /VGA(640x480@30FPS)

Display Screen: Inner screen 1.5" TFT LCD,Outer screen 40*30mm
Why choose Coolife Night Vision

656 Feet of Viewing Range with IR Illuminator in Full Darkness
Coolife night vision monocular is composed of a multi-layer binocular lens system and built-in 3W infrared LEDs. In full darkness, you can count on its infrared light to illuminate objects 656 feet away. It comes with a wrist strap, easy to hold, and keeps the screen stable during your night activities.

Day & Night Vision
When you turn on the infrared button, the screen displays a black and white screen, during the day it displays a color screen.

Hight Performance Night Vision
High-performance digital night vision device that sees 3x magnification clearly in the dark, 4x digital zoom, and 24mm objective aperture.

Video & Photo & Playback Modes
Not only does this night vision have impressive image clarity, but it can also take day or night infrared pictures and videos that you can use for future reference.


4 x Digital Zoom
Press and hold the IR+ or IR- button, the screen will zoom in with the proportion of digital. The enlargement range bar will be displayed on the right side of the screen; 4X digital zoom uses magnification technology to enlarge an area of an image.


Compact and Portable
Coolife night vision monocular is only 176g, and the non-slip protective belt is specially designed, you can carry the night vision scope around.


Standard Tripod Screw Slot
The base of the night vision device has a standard tripod slot so as to fix the night vision device on the tripod. These night goggles work great on a tripod or when laying still, observing wildlife.


Pull Wire Design
Please install new 5 x 1.5V AA alkaline batteries into the night vision Monocular before using(NOT INCLUDED). When assembling the batteries, place the battery on the wire, the pull wire of the battery slot is designed for taking out the batteries. Never mix old and new batteries, otherwise, battery power will be drained very quickly.




Warm Tips

To turn on the device, please press and hold the power button for 3 seconds. If the unit doesn't turn on after that, please check whether the polarity of the batteries is correct.

The screen end is the eyepiece while the green end is just the lens, so please look through from the screen end.

To turn on the night vision function, please simply press the IR+ button or increase the IR brightness level gradually, the image on the screen will turn black and white.

Keeping the IR on will also drain the battery. If battery power is insufficient, the IR brightness level will decrease automatically accordingly.

To enlarge an area of an image, please press and hold the IR+ button.

Rotate the lens to manually focus the target to be clearer.
Package includes Monocular
1 x Night Vision Monocular

1 x Wrist Strap

1 x User Manual

1 x Cleaning Cloth

1 x Data Cable